Unraveling Adoption
The Lifelong Impact of Adoption with Michael Grenfell – Ep 103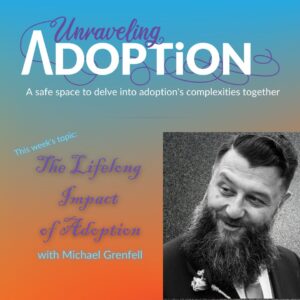 "When we receive or find new information, we have to then reorient ourselves with that information, with a new foundation or a new guidepost. It's deep identity structure stuff that we're continually renegotiating all the time throughout this journey." – Michael Grenfell
In this episode of Unraveling Adoption, guest Michael Grenfell opens up about the profound impact of adoption on identity. As he shares his experiences, the complexities of navigating family dynamics and the lasting effects of adoption are unveiled. But just when it seems like resolution is within reach, conflict erupts within the family, leaving Michael in a precarious situation with no clear path forward. Tune in to discover how this adoptee's journey unfolds and the resilience he displays in the face of adversity.
In this episode, you will be able to:
Comprehend the critical part fathers take on in the adoption narrative,

Probe into the complexities confronting adoptees in their quest to locate their birth parents,

Discern how adoption imprints on an adoptee's sense of identity and self-understanding,

See the necessity of candid dialogue and trust within adoptive families,

Realize the power of DNA testing in an adoptee's expedition to find their biological kin.
You'll appreciate hearing from Michael Grenfell, an adoptee from the Baby Scoop Era in 1971, and a dedicated advocate for adoption transparency. Hailing from Sydney, Australia, Michael has navigated through the winding paths of his adoption journey and has come out the other side more self-aware and empowered. A celebrated author of poetry and crime fiction, Michael uses the written word to express his experiences and emotions and is currently working on sharing his story in memoir form. His focus on the importance of both his adoptive and natural fathers – and his own experience as a father – serves as a refreshing perspective in the adoption discussion.
The resources mentioned in this episode are:
Attend the screening of Reckoning with A Primal Wound, the film by Rebecca Autumn Sansom on Saturday, July 29, 2023 at 7pm PST. Tickets can be purchased at reckoningoc.eventbrite.com. Join the screening either in person in Orange County or online via Zoom. Both spaces are limited, so secure your tickets today.

Connect with Michael:

Check out Michael Grenfell's poetry, crime fiction, and memoir. The poem he presents in this episode, "Goodbye! Hello?" appears in this anthology:  https://www.westwords.com.au/project/living-stories-2022-things-unsaid/

More of Michael's writing can be found in the Autumn and Winter 2023 Post Adoption Resource Newsletters.

In Australia, check out:

Authors Michael and Beth mentioned:
Identity and Parenting
The impacts of adoption on identity and parenting are extensive and deeply ingrained. The adoption experience often dictates how a person perceives themselves and reflects on their parenting style. Parents who are adoptees might employ a protective parenting approach, influenced by their earlier experiences of rejection and strife. Michael's testament sheds light on how his adoption journey influenced his role as a father. His deep-seated fear of rejection initially pushed him towards hyper-vigilance over his children. However, over time, he encouraged their independence and fortified their sense of self-worth. He admitted to his initial helicopter parenting approach, a testament to how one's adoption background might shape parental instincts.